Tribute to LBPD Officer Timothy Stover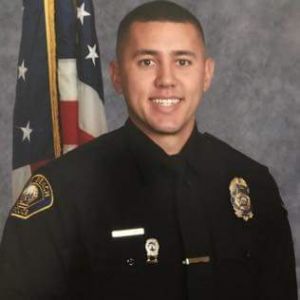 On Sunday, June 18, 2017, Long Beach Police Officer Timothy Stover, #10781, suddenly and tragically passed away from unknown causes. He left behind a large and loving family, along with a tremendous number of friends. Tim graduated from LBPD Academy Class #88 on November 6, 2015, and was only 26 years old at the time of his passing.

Tim's memorial service was held on Saturday, June 24, 2017, at Green Hills Memorial Park in Rancho Palos Verdes. The crowd overflowed out of the church and onto the patio outside. Numerous uniformed officers attended and filled the aisles on both sides of the building. The family was extremely thankful for the large outpouring of support from those that attended.

The service was officiated by Officer Conrad Penn. Speakers included Chief of Police Robert Luna, Officer Benjamin Hearst, Officer Michelle Mounts, and Mr. Timothy Bird (Tim's stepfather). The eulogy given by Officer Hearst contained many of the small stories about Tim which helped make the service very personal. His speech was followed by an endearing poem read by Officer Mounts. The service ended with a dignified and professional flag folding ceremony and presentation led by the LBPD Honor Guard and Chief Luna.

We know that many of you were unable to attend and we wanted to take the opportunity to share with you the eulogy and poem from Tim's memorial service.
---
Eulogy for Officer Timothy Stover
By Officer Benjamin Hearst

Tim EOW

Tim, Timothy, Cupcake, Timmy, Jaboy, T-Hardbody, Daddy, Stover, or whatever it is we would call him.

Thank you everyone for coming this morning, it would have meant the world to Tim. As Tim would say: "Wow, such friends and family here!" with a huge smile on his face. I don't think any of us anticipated having to do something like this so early on in our lives. A lot of people probably were wondering why there was a display of cupcakes at a funeral service. Well, throughout college, Tim worked at Sweet and Saucy Cupcake Shop. I'm pretty sure a lot of people at work knew Tim as Cupcake. But like all of his jobs, he always gave it 110%. He loved running around, delivering custom cupcakes, and baking so much, he created his own flavor which he later entered into a contest and took home first place. Even to this day, Tim's Pecan Cinnamon Roll cupcake is the most popular selling item at the shop…he never let us forget it!

There are so many words we could use to describe Tim. He was always worried about his body being so jacked, I don't even think he knew how big his heart was on the inside. He could make you smile without saying anything, just walking into a room. Tim always brought us all together and seemed to be the most happy with friends and family around.

We could all come up here and spend hours on the countless memories and stories we have of all the good times with Tim. I remember the first week of the Academy when most of our class first met Tim… he was the Class Commander. Didn't know anyone's names in class formation and, like the rest of us, had no idea what life was going to be like on Academy Island. Yet he got us through it even though it cost our class several thousand calisthenics. He was voted Class Accountant by our class and he took so much pride in using his Long Beach State accounting degree to manage all of our class funds.

Tim would always get called out by instructors and Academy staff for having his mouth open. It kind of became what he was known for. We remember him always making sounds that he wasn't even aware he was making. One day, during baton training, he would make hitting noises and Officer Trias asked him if he even knew what Ottomotopia was. Tim just yelled out, "BANG, BOOM, SPLAT, OTTOMOTOPIA!" Or when Tim showed up for formation wearing his dress shoes because he left his boots. He stood there so confidently as if he was wearing his actual boots.

Tim really came into his own towards the end of the Academy and proved it by being the first person to shoot a 100%. He was so proud of that damn 100% shooting pin. He wore it daily and if it made a sound as it dangled, he would say, "Did you hear that? Oh no you didn't because you don't have one!"

Before we knew it, it was graduation day. I remember Tim telling us about his first shift with his first FTO, Officer McGowan. We were all so excited to be out of the Academy and had no idea what we were getting ourselves into. Officer McGowan had stopped training for three years prior to having Tim as a trainee. Officer McGowan said he had always tried to take Tim under his wing and steer him in the right direction. There was one shift that Tim came into work not feeling well. He told Officer McGowan he felt like he was going to throw up and when Officer McGowan asked him if he needed to go home, Tim looked at him and said, "No, I got this." That was just the type of person Tim was. He gave whatever he was doing everything he had regardless of the circumstances. So, on that same shift, Tim was taking a burglary report and was talking to the victim about what was taken from the house. Tim interrupted the victim midsentence by saying, "Excuse me," walked behind a tree, and immediately threw up. Officer McGowan asked him if he was okay and Tim said, "Yeah, let me just wipe my face." Tim did not want to go home; Officer McGowan had to force him to leave.

Or Tim would always tell us about one of his first days in the field when he went to stop a bicyclist and didn't even activate the lights or siren and just jumped out of the car and stared at the cyclist. It seemed like everything was in slow motion and after a long, silent stare down, the cyclist got back onto his bike and slowly road away. Tim watched him ride away and a short time later said to Officer McGowan, "Sir! Am I supposed to chase him?" They ended up letting him ride away.

He was so happy to be doing what he loved and looked forward to someday joining the FBI so he could be just like his dad. He has one mug at home that he would constantly use…and it was a mug with the FBI seal on it. We never saw him drink out of any other mug. After living alone for the majority of his life, Tim was so excited to move into the Bella Terra with Ben Cobb. Tim loved being the life of the party, going to Costco, and stocking up on more than enough food for the poolside BBQ's. He loved the apartment and loved having people around him, almost as much as we enjoyed his company. Anytime we all talked about where we were going to go, he always said, "How about daddy's apartment?"

Once we all made it off the training phase of our careers, we were all so excited to finally work all the overtime in the world and have big paychecks, but not Tim. Tim worked hard for the week and did it so he could spend his days off with friends and family…the way it should be. He had his fancy top floor apartment and I don't think he ever used his own washer and dryer because he would always go home to see his family and spend time with his brothers Sean and Chris and the dog, Roxie.

We never expected this to happen to such a fun, loving guy at such a young age and wish more than anything that we could have him here with us. But one thing is for sure, he made a positive impact on each and every one of us in some way and we are all so grateful for the chance to have known him. We are all genuinely better people for having known Tim and are thankful for the time spent with him. Tim had a large family with many support systems: his father, James, and mother, Rose, brought us Tim, and others, such as his stepfather, Tim, and brothers Sean, Chris, Michael, and Brian, that helped mold him into the man we all grew to love!

Thank you again to everyone for coming out. Tim loved the attention and would not want it any other way. People always say at these things to focus on the happiness and not be sad, but I think we all agree Tim likely created that. Although a life was cut short, let's live off the happiness he brought. We all know Tim as a goofball, but at the end of the day, he will always be our goofball.
---
Poem at Memorial Service for Officer Timothy Stover
Read by Officer Michelle Mounts

Farewell friend you're leaving
It's time for you to go
Your friendship was a blessing
And we will miss you so

We shared many laughs
You brightened up every day
You brought us so much happiness
With all the funny things you would say

You lifted up our spirits
When one of us was blue
No matter what was happening
You knew just what to do

We shared a lot of good times
And many laughs under the sun
You were the life of the party
And, oh did we have fun

There are always ups and downs of life
Good times and some sad
No matter where life wanted to take us
You were the best friend to be had

It is now time for you to be taken home
And we are told that we must part
We will miss you forever
You will live within our hearts.
By accepting you will be accessing a service provided by a third-party external to https://longbeachpoa.org/