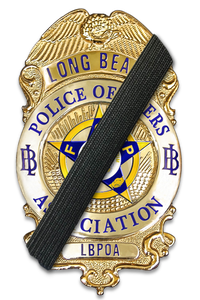 Fallen Officers
The following Long Beach Police Department officers have paid the ultimate sacrifice and lost their lives in the line of duty while serving their community.
February 4, 2003

Corporal Edward Roy Davenport was found unconscious on the grounds of the pistol range grounds next to a ladder, suffering from a head wound and in full cardiac arrest, and died from his injuries.
---
April 30, 2000
Detective Daryle Wayne Black was on patrol with his partner Rick Delfin in the 1900 block of Lime Ave when their vehicle came under fire. Detective Black did not survive his wounds.
---
October 13, 1996

Officer Karl Duane Simons was responding as a backup unit to a call regarding a stolen car when he crashed traveling at a high rate of speed northbound the Long Beach Freeway.
---
October 30, 1981

Officer Lloyd Marland Lund was riding his police motorcycle southbound on the 405 freeway when he was pushed by a gust of wind making him lose control of his vehicle. Officer Lund steered left attempting to regain control and flipped his motorcycle onto its left side. Officer Lund was fatally injured when he struck the freeway fence divider.
---
January 1, 1976

Officer Gary O. Elkins and his partner responded to an unknown trouble, "possible prowler" call at 2816 Easy Avenue as he walked to the front of the location he was ambushed and shot in the head. Officer Elkins died at the scene.
---
December 13, 1975

Officer Franke N. Lewis, arriving home after a night on duty, went to investigate an "unknown trouble" situation occurring in a vehicle parked near his Long Beach home. Officer Lewis was shot and killed by an unknown assailant.
---
September 15, 1975

Officer Robert R. Birdsall was in search of an armed robbery, kidnapping, and attempted murder suspect in the area of 23rd Street and Orange Avenue in Signal Hill. He confronted, and was fatally shot by the suspect. Officer Birdsall was pronounced dead at St. Mary's Hospital.
---
August 26, 1967

Officer William L. Isham, and Officer Donald V. Knott, responding to a family disturbance call at 182 Quincy, Apt. A, where both were fatally shot by a suspect. Both officers were pronounced dead at Long Beach Community Hospital. The suspect was shot by the officers and died several weeks later.
---
December 12, 1965

Officer Robert G. Smith was involved in a high-speed pursuit, westbound on Wardlow Road. During the pursuit he struck a third vehicle, west of the Long Beach freeway. Officer Smith was pronounced dead on arrival at Long Beach Memorial Hospital.
---
August 15, 1965

Officer Richard R. LeFebvre was shot and killed while working a civil disturbance call in the vicinity of 1380 California Avenue.
---
June 24, 1960

Officer Vernon J. Owings and his partner stopped on Seaside Blvd., west of the west city limits to help what appeared to be two men having car trouble. One of the men drew a gun and fatally wounded Officer Owings.
---
January 20, 1957

Officer Frederick Walsh Jr., was in pursuit of a vehicle southbound on the Terminal Island Freeway when he struck a light pole. Officer Walsh was taken to St. Mary's Hospital where he died that evening.
---
December 18, 1954

Police Officer William Waggoner succumbed to gunshot wounds sustained on December 23rd, 1930, while attempting to apprehend four kidnapping suspects. He and two other officers came across the men in a parked vehicle near the docks in Long Beach. The man had been suspected of kidnapping a wealthy gambler, his wife, and their houseboy. One of the suspects was a former lieutenant of Al Capone's gang Chicago, Illinois. All four were aquitted of assault with intent to commit murder in connection with Police Officer Waggoner's shooting. The ringleader of the gang was subsequently convicted of kidnapping the gambler and sentenced to life in prison. Police Officer Waggoner became paralyzed as a result of the wound. His condition continued to worsen and he died as a result of complications of the wound on December 18th, 1954. His death was ruled a homicide by the coroner.
---
November 2, 1950

Officer Morgan succumbed to injuries sustained on Monday, October 30, 1950, in a motorcycle accident. He was attempting to stop a traffic violator when another car turned left in front of him at New York Street and Atlantic Avenue. He was transported to a local hospital where he succumbed to his injuries three days later.
---
February 28, 1950

Officer Jesse M. Ream was riding his motorcycle in pursuit of a traffic violator when he struck another vehicle, which was making a U-turn in front of him at 36th Place and Ocean. Officer Ream was dead on arrival at Seaside Hospital.
---
July 17, 1949

Officer Marlin Leroy Evans and his partner were questioning a burglary suspect near Willow and Pine, when the suspect pulled a gun and shot Officer Evans. Officer Evans was pronounced dead upon arrival at Seaside Hospital.
---
November 18, 1945

Officer Cecil W. Singer was on patrol on his motorcycle when he was injured in a traffic accident at 17th and Cherry. Officer Singer died two days later from the injuries he suffered in the accident.
---
March 20, 1945

Officer Harold W. Irwin was on his motorcycle in pursuit of a speeding vehicle when he was struck by a vehicle that had pulled into his traffic lane from a parking lane without signaling. Officer Irwin died that night.
---
February 25, 1942

Sergeant Engebret Larson was killed in an automobile accident in front of 2547 Santa Fe Avenue while reporting for duty after being alerted of an air raid blackout.
---
February 14, 1940

Officer Delbert Pius Buckman, while patrolling on his motorcycle near Anaheim and Linden, was struck and killed by a hit and run driver.
---
December 12, 1934

Officer William Joseph Maclean was attempting to arrest a suspect on a warrant issued for passing bad checks. Officer Maclean chased the suspect into a hotel at 126 East First Street where the suspect shot and killed Officer Maclean.
---
July 13, 1931

Officer Ralph A. Morgan was shot and killed after he and his partner stopped a stolen vehicle in front of 484 Almond Street, and a terrific gun battle took place between the two officers and the two suspects. Officer Morgan's partner was wounded, one suspect was killed, and the other suspect committed suicide.
---
November 18, 1928

Officer George A. Walls, while patrolling on his motorcycle in foggy weather, crashed into the rear of a truck and trailer which was parked partially extending into the street on the East Anaheim Road.
---
May 6, 1926
Robert H. Halstead was making a fast run on his motorcycle, clearing the way for an ambulance carrying a patient to the Emergency Hospital, when this fearless and expert motor officer, collided with a Pacific Electric train at Atlantic Avenue and Newport Crossing, May 6, 1926, and was so badly injured that he died in a short while after the accident occurred. Halstead bore a splendid reputation in this community and stood high in the estimation of his fellow officers.
---
March 21, 1923

Orlando E. Bridgeman, one of the best-liked and most efficient members of the department, met his death on the evening of March 21, 1923, when his revolver, slipping from his holster, fell to the pavement, discharging it, the bullet penetrating the body of the officer, from which wound he died a short time later. The officer, at this time, was rendering assistance to a citizen, doing his duty as an officer. His interment was said to have been the largest attended of any ever held in his city.
---
January 17, 1923

J.R. Wilkinson was one of the colorful figures in the law-enforcement work of the Southwest, and affectionately known as "Dad," who served as a member of the local department. His experience as a Texas Ranger, a guard on the Mexican Border and as a Deputy Sheriff in different sections of the country, qualified him as a high-grade peace-officer. On January 17, 1923, while making an arrest in the Amusement Zone of this city, "Dad" was stricken with a heart attack and died in the arms of the vagrant who had stayed with him to the end.
---
March 17, 1912

Thomas C. Borden, the first mounted officer of the department, lost his life at the hands of a burglar on the night of March 17, 1912. Returning from church services with Mrs. Borden, Tom surprised a burglar in the act of robbing his residence, and, unarmed, bravely attempted his capture. The burglar, using Borden's revolver which he had stolen from the house, fired two shots, both taking effect in Borden's body. Tom passed away about two hours later, and the greatest man-hunt in the history of the City of Long Beach was on. A killer was identified but never apprehended.