LBPD Officer and Westminster Councilmember Tai Do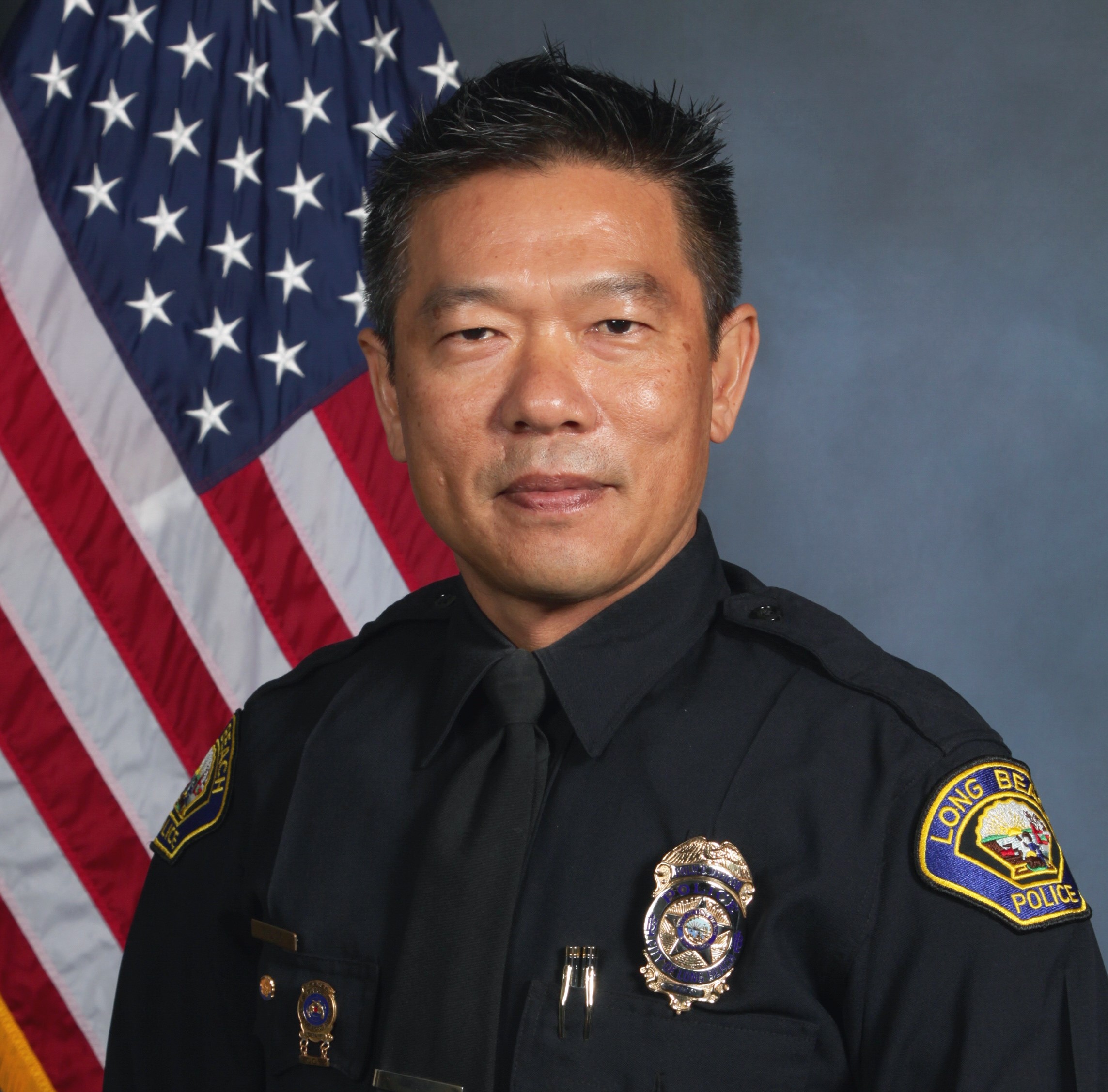 Tai was born in the city of Bien Hoa, Vietnam during the peak of the Vietnam War, just a few months before the Têt Offensive in 1968. Tai was the second youngest of ten siblings. His parents, despite growing up in poverty, were a quiet, moral, and hardworking couple who created a successful retail business in Vietnam. His father's motto was, "Those who do not work, don't eat!" He instilled the importance of hard work and perseverance in his family and Tai's mother taught him to be kind to others and have compassion for mankind.
After the fall of Saigon in 1975, the communist regime shut down the free enterprise in Vietnam and the government began a systematic persecution and imprisonment of the members of the former South Vietnamese government, military, and anyone who had ties with the former South Vietnam government. Tai's oldest brother was a lieutenant in the former South Vietnam military and his brother-in-law was an interpreter for the CIA. With limited opportunities to grow under the new regime, many families, including Tai's family with the added burden of connections to the former government, were falling into poverty and despair. Civil rights were violated, private properties were confiscated, and thousands were abused, tortured, and killed. His oldest brother Tam, along with approximately 300,000 others, were immediately arrested and sent to hard labor prison camps. This mass incarceration was believed to be both a means of revenge and a sophisticated technique of repression and indoctrination for the prisoners. Land that his family owned was seized by the government and turned into a communal property.
In 1982, Tai's parents spent their entire life savings to smuggle Tai and his two of his older sisters onto a small fishing boat to escape Vietnam. Many Vietnamese risked their lives to escape Vietnam in rickety, leaky, overcrowded wooden fishing boats that became cesspools of disease. Smugglers capitalized on the exodus and charged exorbitant fees for escape with little care for the well-being of the people after they were paid. The boats often had no safety equipment, food, water, or fuel and many refugees lost their lives to the merciless seas and to Thai and Malay pirates that scoured the South China Sea and the Gulf of Thailand, attacking the small boats to pillage, rape, and kidnap the refugees to later sell into slavery and prostitution. The United Nations High Commission for Refugees estimated that between 200,000 and 400,000 "boat people" died at sea.
After 12 hours on the boat, surviving on a small amount of dehydrated food they brought with them and water from diesel containers, they had reached international waters. Pirates stopped their boat and moved everyone to another boat, where they were attacked, and their valuables were stripped from them before being allowed to continue on their journey. On the third day of this journey, their boat was damaged by a heavy storm and began taking on water. Not knowing how to swim, Tai had no choice but to jump into the water. He, along with the other men, broke the wooden boat into pieces to use as floatation devices. Tai managed to grab a piece of wood for himself as the boat sank to the bottom of the Gulf of Thailand.
At the age of 14, Tai believed he was going to die as his life flashed before his eyes. Images of his family comforted him, and he accepted his imminent death and could feel a sense of peace. Hours later, Tai, along with 46 other people, were rescued by a Thai fishing boat. An unknown number of people on the boat perished before they could be rescued.
The 47 survivors, which included Tai, were taken to a nearby Koh Kra island, also known as Hell on Earth. Until a few months before Tai's arrival here, pirates used this island as a base camp where Vietnamese women were raped and killed. Tai and his group stayed on the island for two days before being taken to the Thai mainland by the United Nations High Commissioner for Refugees. The group was then taken to the Songkhla refugee camp where they were given clothes and food along with access to medical care provided by an international non-profit charity.
Due to the daily influx of Vietnamese refugees seeking political asylum at the time, the Thai government set a cut off date for accepting the refugees. Unfortunately, Tai and his sisters arrived in Thailand after the cutoff date and he was sent to prison for entering the country illegally. Tai, along with 180 people, were the first group of refugees that were sent to Sikiew Camp, which was a low security prison in northern Thailand. Tai can still vividly remember arriving at an empty camp on a rainy afternoon. After witnessing his people being victimized by the Thai pirates on the high sea, Tai feared mistreatment by prison officials. UN humanitarian workers were not allowed to visit the camp. A Thai Catholic priest and his aides were the only people allowed to enter the camp to conduct Sunday mass and humanitarian work to help the refugees. Life in the camp was long, tough, and nearly hopeless. There was not enough food and water. New refugees arrived to the camp almost weekly. Tai listened to stories from the newcomers and other inmates of survival and atrocities that were committed by the Thai pirates.
Since the refugees were incarcerated without a sentence, there were no release dates scheduled. A leadership group was organized to manage the camp and a school was set up for minors. Teachers were recruited among the refugees to teach English. Tai began learning English and never gave up hope to one day live in America, the land of opportunity. Tai spent most of his time in the camp at the Buddhist Temple where he was introduced to meditation by the Vietnamese Buddhist monks. He meditated at the temple almost every night. After 18 months in the detention camp, Tai and his sisters were transferred to Phanatnikhom Refugee camp, where they were processed to resettle in a third county. Tai's older brothers and sisters already lived in America and they filed the necessary immigration paperwork for Tai and his sisters to join them. Tai and his sisters had to go through an interview with the Immigration and Naturalization Service officials before being granted permission to resettle in the United States.
Two and a half years after he stepped foot on that rickety wooden boat to embark on his journey to freedom, Tai arrived in the United States in the spring of 1984. He settled in Santa Ana, California, and attended one year at Santa Ana High School before moving on to Santa Ana College when he turned 18-years-old. Tai graduated from Santa Ana College with a degree in Criminal Justice, earning a California CTE Clear Teaching Credential.
Just like many young Vietnamese immigrants, Tai was busy learning a new language and assimilating to the new culture in the United States. After witnessing his people's mistreatment, being physically assaulted and violated by other people in a foreign country, government, and police corruption, Tai wanted to do something to make a difference in people's lives and to have the skills necessary to halt injustice and protect people. Tai had seen how police officers in Vietnam, Thailand, Indonesia, and Singapore treated people and had been beaten himself for not speedily picking up his belongings to the officer's satisfaction. He didn't want what he had lived through to happen to another human being.
Tai realized his dream of coming to the United States and then became a police officer with the Long Beach Police Department in 1996. Tai has worked in Patrol, Juvenile Detectives, Police Athletic League, Recruiting, Field Training Officer, and as an instructor at the Long Beach Police Academy as well as the Rio Hondo Regional Training Center Police Academy. Tai has trained police officers in the application of force for more than 17 years and has earned a brown belt in Aikido and a third stripe black belt in Hong Gia Kung Fu. When training new recruits or retraining seasoned officers, Tai always attempts to instill professionalism and compassion above all else in the application of reasonable force in order to subdue potential suspects safely, legally, and humanely into custody for the protection of the officer, suspect, and general public.
Tai is also a competitive police shooter. He was a member of the Long Beach Police Department Pistol Team from 1999 to 2009. He was ranked one of the top ten shooters in California in 2005 and represented the LBPD in pistol matches with other police departments in California as well as other states. He won several gold medals during annual Police Summer Olympic games.
Tai is a true believer in the Community Policing model which recognizes that police can rarely solve public safety problems alone and encourages interactive partnerships with relevant stakeholders and citizens within the community. While Tai has employed this strategy for many years with his position at LBPD, he was recently elected to the Westminster City Council to serve the city he makes his home. Tai hopes to use these same strategies in working on a larger scale in his new position, serving with integrity, principles, and care for the quality of life of all citizens.
In 2018, Tai made the decision to run for elected office in his hometown of Westminster, California. His dedication to community service and courage to take on difficult tasks were inspiring to his peers and hometown electorate. At one point, 13 people were vying for only two seats on the council. When the votes were finally counted, Tai received more votes than any other candidate and he was easily elected. On December 12, 2018, Tai was formally sworn into office in front of a packed crowd at the Westmister City Hall.
Congratulations to Tai on his victory and thank you for his lifetime of service.
By accepting you will be accessing a service provided by a third-party external to https://longbeachpoa.org/